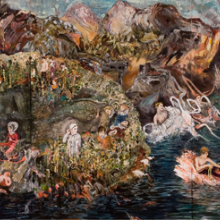 Looking at the works by Hernan Bas at his solo exhibition in Brooklyn Museum, I was pondering what inspired Mr. Bas with all these pictures. His male figures, though never taking too much space in each picture, have a Cézannian directness from plane colors and small yet visible brushstrokes. However, the architectural solidity in techniques melts down in the overtone of sexuality and near-hallucinated fantasy. Is Miami's gay scene that decadent?
In all pictures, only one type of person are depicted: a white teen male, smooth and slender, mostly naked or if not in a certain narcissism way. Even Jack McFarland in Will and Grace would look more butch compared to them. But luckily they don't live in this world, or should I rephrase, they are not willing to live in this world. They would take the time shuttle from 21st century Florida to the Hellenic or Roman period, and play the drama of being sardonic or saintly, love wooer or love martyr.
The biggest painting "The Great Barrier Wreath" is made of acrylic, gouache and oil. Among the near-apocalyptic madness of the harsh environment and ridiculous delusion of flora and fauna are the boys either half nude or dressed like circus actors or comedians. I am ok with the fact that they all look sad and lonely, as happiness would be an inappropriate light subject unsuitable for young serious artists. But they have no interaction with each other, as if all boys are sequential images of the artist's daydream at the height of his vanity disorder.
Paintings with more or less realistic settings equally troubled me. For appreciating works by Bas, reading titles is not only beneficial but also imperative. "Apollo with Daphane", "Mephistopheles", and "Swan Princes" bring literature and mythology into the pictures, although still vague, limiting how viewers perceive the paintings. Geo, an admirer of the art of George Inness , commented that the great painting should impact viewers directly and that the title of the painting should not be critical. (Inness himself said "A work of art does not appeal to the intellect. It does not appeal to the moral sense. Its aim is not to instruct, not to edify, but to awaken an emotion".)
Thus, Mr. Bas may be too intellectual for me. In some cases, I failed to recognize the linkage to literature, nor could I spot the undertone of Oscar Wild or Herman Melville: the former I only managed to read a few and the latter none. But unlike the novelist who, at his best, used Billy Budd to symbolize the fallen victim of homoerotic sensibility against the iron social structure, Mr. Bas explicitly addresses homosexuality by eliminating any sight of heterosexual human beings but with equal reserve on social justice. Isn't it sad if gays can only live in their own way without any interaction with straights and even lesbians?
Pearl commented that the pictures are dark and turbulent. I am wondering, in Hernan's mind, is the violence part of the life and drama in the gay's own world, or are those volcanoes and cataracts analogous to the society? I have doubts about the latter guess since an outcry for gay rights would lose its base support by iconizing gays as white lean feminine-looking teens.
After coming out of the exhibition, I said to myself probably I should start reading "Moby Dick." But, Mr. Bas can probably also benefit from looking at some pictures of Tom of Finland, I hope.